Award Nominations:
Great Lakes Colleges Association  (GLCA) New Writers Award, for first book of fiction published in 2017
PEN/Robert W. Bingham Prize for Debut Fiction
Reviews:
"Like The Madonnas of Leningrad, Marina Antropow Cramer's sweeping novel brings to life the suffering of ordinary Russians during World War II. With richly evoked compassion, Roads shows us the power of family and love to survive in the face of devastation." —Laurie Lico Albanese, author of Stolen Beauty
"Riveting, heartbreaking, and beautifully written, Roads takes us deep into the black heart of Nazi Germany, finding not only horror and despair but a stubborn and tenacious hope and a kind of clarity about what it means to be human." —Christina Baker Kline, number one New York Times bestselling author of Orphan Train and A Piece of the World
____________________
From Shelf Awareness, March 23, 2017:
Marina Antropow Cramer's Road from Bookseller to Novelist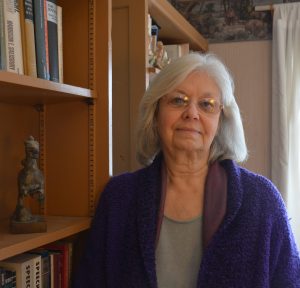 For Marina Antropow Cramer, the publication on May 1 of her first novel, Roads, by the Academy Chicago imprint of the Chicago Review Press, "still feels unreal," she says. "It still feels like this is happening to someone else."
One might think that for Cramer, because of her bookselling background, publishing a book would be more familiar than for most new authors: for 17 years, she owned Cup & Chaucer Bookstore in Montclair, N.J., then for 12 years after that, she was a bookseller at Watchung Booksellers, also in Montclair.
"Being on the other side of the counter, so to speak, even though I know what happens over there, has been a revelation and an education," she says. One example is the letter she is sending to bookstores and libraries seeking to arrange appearances, something she has put great care into. "I've read a lot of these letters and know how easily they get overlooked," she remembers. And the editing process was "a little painful," she says. "But a better book came out of it."
Her bookselling experience was important for the writing of Roads, Cramer says. "Going to work and being in an environment that's all about books was something that fed me. Handling books all the time, talking with people about books, arranging books, shelving books, meeting with writers and editors and agents and serious readers. I don't know if I could have this without that."
She had experience in general retail before setting up a bookstore, which she found much more satisfying because "with books, you're dealing with stories and ideas and history and all the wonderful things books deal with. It matters what book you put in people's hands. Books are not interchangeable. They're a big part of my life, and I couldn't have done this without having done that."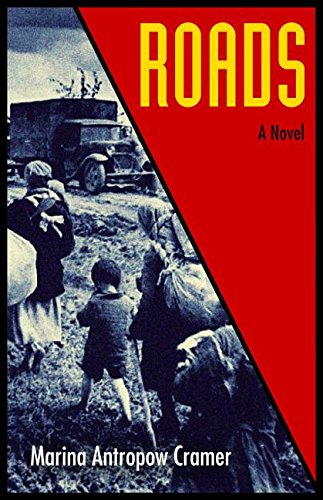 Roads, the story of a Russian family living in Yalta, in the Crimea, begins in the late 1930s, when life under Stalin has many challenges; some people go along with the regime while others continue to find sustenance in the old ways. Then the Nazis invade. As the occupation becomes increasingly difficult, the main characters–an older couple, their young daughter, and the daughter's husband–volunteer for agricultural work in Germany so that they can stay together–and be treated better than the many Russians who are being picked up in the streets and sent to Nazi labor camps. In Germany, they find they were lied to–but they survive appalling conditions and just miss being caught in the firebombing of Dresden in 1945. But as the war comes to its bloody conclusion, they're separated and, after the German surrender search for each other amid the chaos of postwar Germany–while needing to avoid the Red Army and allies who might return them to a grim fate in the Soviet Union. The characters are strongly drawn and fascinating, from the young dreamer Filip to his formidable mother-in-law, Ksenia, who cares for the family in a variety of ways–from finding and preparing food to providing the kind of grounding and clearsightedness needed to survive a string of harrowing situations.
Cramer's writing is lush and poetic with a refreshing edge. Just when some of the characters seem to be familiar, they do or say something significant that surprises the reader and puts everything that has happened before in a new light–and leads down a new road. Throughout Roads, the family takes a variety of roads, from literal to emotional to developmental. In different ways, Cramer says, her characters "get from one place to another in their lives."
Cramer's own family had a similar background to those of the main characters in her novel. They lived in Yalta, then worked in German labor camps, before living for a time in Belgium and finally emigrating to the U.S. Cramer was born in postwar Germany and was nine when the family moved here.
"Roads has elements of my family history in it," she says, "but it's not the story of my family." She took parts of her family's history, parts from others who went through the similar experiences, and "made some things up." She emphasizes that the characters are composite and that she doesn't appear in the book.
For Cramer, the crux of the story is the immigrant experience, which she was drawn to increasingly over time, especially after her grandmother died, when, she says, "I started thinking about where I came from."
That interest led her to focus on the key problem faced by immigrants who move under duress and is common "wherever there's military conflict or environmental upheavals": "knowing you have to go, and all that you can take with you has to fit in maybe two suitcases and that you won't come back. How would you decide what to take? How do you start on that road and deal with not coming back?"
And once a person takes that road, it raises other questions, Cramer says. "What is home? Where do you belong if you can't be there? Who are you?" As an immigrant herself, Cramer said she knew "the sense of displacement" when she traveled to the U.S. at age nine. "It didn't feel right. It didn't feel like the place I belonged." She thought she might feel a sense of belonging in Europe, but when she visited as an adult, while she thought it "very nice," she didn't feel she belonged there, either. "There's always that sense of displacement and not knowing where you belong. I don't think that goes away."
It didn't go away for her mother either, Cramer says, who has been in the U.S. for 60 years and still says things like, "Americans! Why do they smile so much?"
Cramer's mother, who will turn 91 in April, is "astute and cryptic" about Roads, Cramer says. She told her mother repeatedly that she was writing a work that has roots in family lore, but her mother focused on this only once, asking, "Did you tell the truth?" Cramer still is not sure how to take the question: "I don't know if she meant, 'You didn't tell the truth, did you?' or if she meant I should tell the truth."
Cramer had to travel down other roads before the subject fully engaged her. At first, she says, "I wasn't interested. I had been hearing the family history since I was born and thought, 'Okay, all right. The war is over, let's talk about something else.' "
Cramer wrote the book over 15 years, writing parts of it out of sequence. At one point, she spread out the parts she had written on a table, and saw where the gaps were. "It was a very visual assessment of where the work was and what needed to get filled in." She also traveled to Europe for research and to "get a feeling" for some of the places where Roads is set. She visited Belgium, Germany and Russia, but not Yalta. Still, her portrait of Yalta is vivid, "absorbed through things my parents and their parents talked about. Through them it became a very real place in my mind." She still hopes to visit someday.
Cramer says that since she was a child, she was always interested in writing. "I had written stories years ago, but they weren't good because I didn't know what I was doing," she says. It wasn't until later that she learned to "read critically like a writer," focusing on how the writing was done, the structure, what makes a certain passage so powerful, "how words are put together." Eventually the idea for Roads began to form, and "I knew it was more than a story. I realized it was a novel."
She continues to write and has several projects "in various stages of completion" that are "completely not ethnic." She calls this "a good exercise. Here are four people, and that's all you have to know." She also is shopping around a collection of short stories featuring Vera, "a character who entered my life and wouldn't leave."
The launch for Roads will take place at Watchung Booksellers on May 13. Cramer will also appear at bookstores and other sites in New York State, where she lives, and maybe at the Tolstoy Foundation, which for many years has helped immigrants from around the world settle here–including her own family when it was on the road to a new life in the U.S. —John Mutter
_________________
Review in May/June 2017 issue of ForeWord Magazine, Debut Fiction:
War is always an agent of change, but never more so than for schoolmates Filip and Galina. It's World War II, and, to protect Filip from being drafted, Galina agrees to marry him when he turns eighteen. Marina Antropow Cramer's Roads follows the evolution of this Russian family in Yalta from the brink of the Bolshevik Revolution to the immediate aftermath of World War II and asks what roads people will walk down to survive.
Filip and Galina's precipitous decision pulls Filip from his comfortable position as the only child of a well-to-do Party family into the household of his peasant wife. As the war enters its nadir, the family, desperate to survive, volunteers for relocation to Germany as farmers. In transit, they discover they've been tricked. They survive forced labor camps only to end up as political refugees, perceived as a threat by Germans and Soviets alike. Barely able to make a life in postwar Germany yet equally unable to go home, the long road through the war leads this family to unexpected places.
The role of status and privilege looms obliquely throughout the novel, especially as the family is pushed farther and farther to the margins of society. Cramer explores the dynamics of privilege in interesting ways, but nowhere as dramatically as in the various characters' reaction to their changing circumstances during this period of massive upheaval. With more than apt characterization, Cramer explores characters' adaptability as social critique.
Roads is a subtle investigation of war and everyday people struggling to find refuge. In the case of Filip, Galina, and the family that forms around them, Cramer deftly illustrates the price ordinary citizens pay once the war machine is in motion. When the resolution is reached, it hovers, a tenuous moment that leaves some characters with new strength and others poised to plummet and break.
__________________
Review by Rebecca Kightlinger in Historical Novel Society Review, Issue 80, May 2017.
"Under the surface, they felt the whirling currents pull at their bodies, twisting their clothing as if demanding ransom for the passage. I am stronger than you, the river proclaimed. Just let go."
"There is going to be a child."
Having survived the Russian Revolution, music lover Zoya and her husband, postal worker Vadim, now have a son. They raise Filip in Yalta, "Russia's riviera," providing him with an education that nourishes an artist's soul: literature, opera, and the study of the distant lands whose stamps he collects.
Filip's classmate and friend, Galina, daughter of craftsman Ilya and his wife, Ksenia, doesn't share Filip's love of learning; but, practical and loyal—and knowing him to be something of a weakling—she proposes marriage on Fillip's 18th birthday, when he faces a choice from which married men are exempt: join Russia's Red Army or be shipped to Nazi Germany's mines and work camps.
They marry, but Germany's fortunes soon slip, and the occupying Nazis begin to recruit married men, offering "better conditions" to volunteers and their families than they will to men they must conscript. When Filip volunteers, he, Galina, Ilya, and Ksenia embark on a chaotic odyssey: a years-long struggle through deprivation, brutality, and disease. Near the end of the war, after surviving the bombs and fires of Dresden, the men and women are separated, and the four—plus, eventually, Galina's newborn baby—must make their perilous way back together, to a new life.
Close third-person narration and a clear, chronological timeline transport the reader into story. Style derives not from emotionally-charged prose but from elegant syntax and precise word choice. Historical and psychological research clearly informs this tale, but author Marina Antropow Cramer remains in the shadows, never revealing her hand. Highly recommended.
                               __________________
Review in Russian Life Magazine, May/June 2017:
"A broad, moving novel of a family's creation, migration, dispersal and reconnection through war and its aftermath. Cramer offers a realistic portrait of a horrific era, counterpointed by the hope and determination required to get out to the other side."

                           __________________
From Story Circle Book Review, by Ann McCauley:
Booklist Review
Yalta is a beautiful coastal city, a paradise on the Black Sea. But paradise is swept away by deprivation and oppression after the Russian Revolution, and, two decades later, life hardens further under Nazi occupation. Roads portrays a family of refugees: Ilya and Ksenia; their teenage daughter, Galina; and the schoolmate she impulsively weds to save from conscription, Filip. Targeted by the Communist regime, they end up performing hard labor in Germany, and struggling to persevere. First-time novelist Cramer, the daughter of Russian refugees, chooses a different tack from the many similarly plotted WWII novels via the Crimean setting, non-Jewish refugees, and a Russian perspective. (The British are cold: the Americans are practical but undisciplined: and neither are presented favorably.) The story focuses primarily on the young couple, Galina and, especially, Filip. His character is not admirable, and their relationship lacks the depth and beauty of Galina's parents' love, which provides a marked contrast, and realistically illustrates how different personalities deal with the same hardships in markedly different ways.–Latham, Bethany Copyright 2017 Booklist
____________________
Here's a conversation with my publisher's very excellent Marketing Director, Mary Kravenas. Thank you, Mary!
/http://www.chicagoreviewpress.com/blog/marina-antropow-cramer-author-of-roads-talks-about-life-as-a-bookseller-turned-novelist-and-about-writing-family-lore-into-fiction/